Mickey's Not-So-Scary Halloween Party Character Schedules and Locations
(Updated 8/31/2013)
KennythePirate's Mickey's Not So Scary Halloween Party Map
CLICK on Map
SAVE Map to your computer
LOAD Map from your computer and PRINT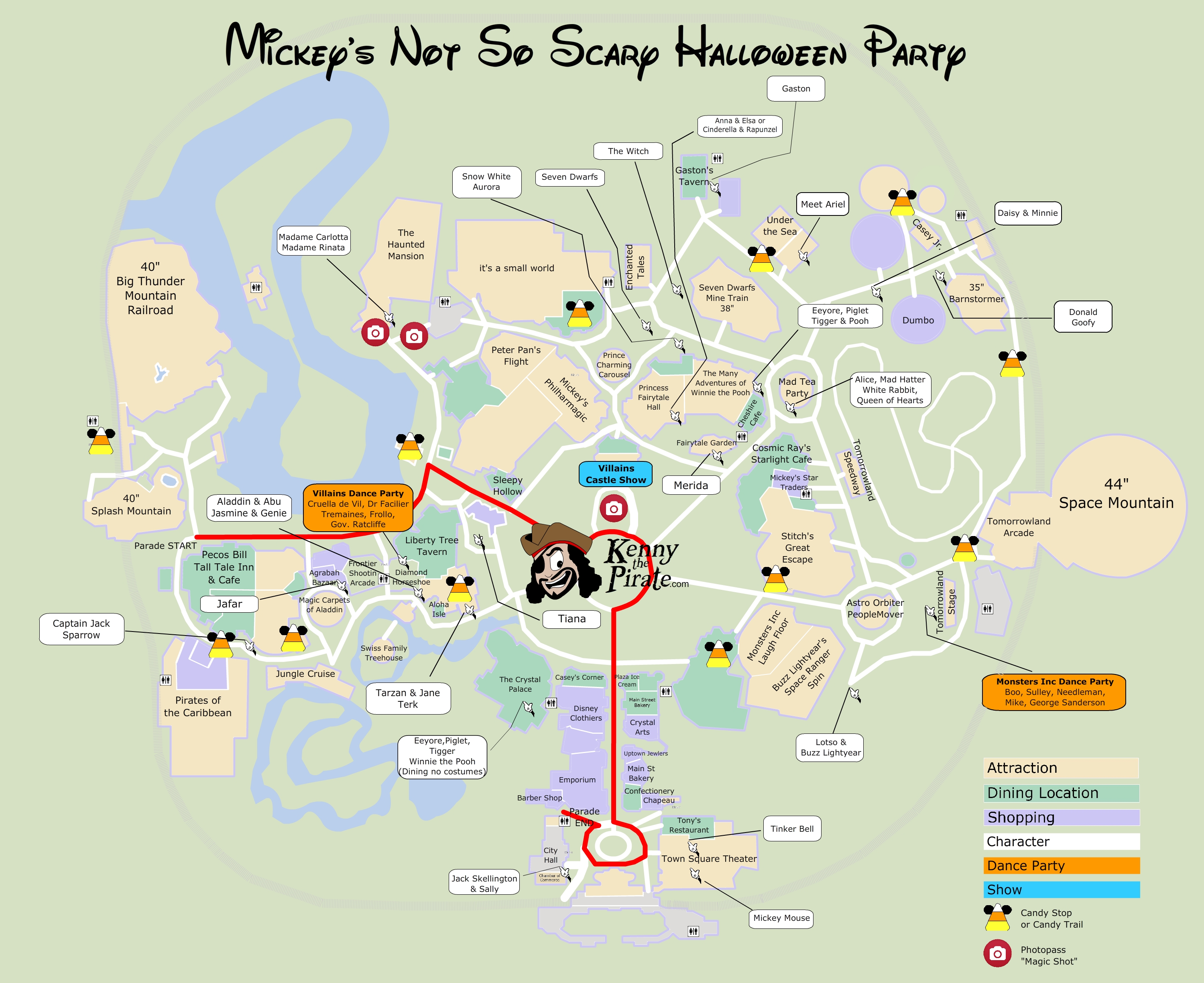 Changes for 2014 – Woody, Jessie and Bullseye have been replaced by the Villains Dance Party.  A couple of villains have been moved around the park for set meets.  Be sure to check the locations thoroughly.  The Prince meets in Fairtyale hall have been eliminated in favor of Anna/Elsa and the aforementioned villains. Disney hasn't mentioned what would happen with Cinderella or Rapunzel yet.  Stand by.
Subscribe to my Character Locator app to receive FULL Halloween Party character & show schedules and menus.
Know who you want to see!
HIGHEST PRIORITY CHARACTERS:
It's important that your family makes a plan of the things they wish to experience during the party so they don't spend their time wandering around the park. When it comes to characters you should pick the ones you find have the greatest importance. To some people, meeting with the 7 Dwarves will rank high, while others may wish to see Captain Jack Sparrow and another family may want to visit with every villain at the party. Know who you want to see and set a reasonable goal. It's not impossible to meet every character, but you won't have time for any other element of the party to attempt this.
These characters may have lines of one hour or more or take multiple meets to see them all
Jack Skellington and Sally:

Jack Skellington and Sally are new for 2013 and were VERY popular for the Downtown Disney Event last year, so I would line up early for them and save the Dwarves for last meet of the night.  The line begins forming for this couple around 5:0 to 5:30 pm!
Dwarfs:
If you wish to meet the 7 Dwarfs, (Snow White doesn't meet with them, she meets with her Prince elsewhere) you'll want to line up no later than 6:15 pm. The line for the Dwarves actually begins to form at 5:30 pm. Why would I recommend spending all that time in line? Well, if you don't line up early, you'll still be in that line later and you'll miss precious party time. By lining up early, you'll have the full 5 hours to do the other things you wish during the actual party.
If you choose to meet Jack and Sally first, you should save the Dwarfs until later.
Villains:
There are two different types of villains offerings for 2014.  Fixed location meets and Dance Party appearances.
Villains offering a regular meet and greet. This group is spread out in the park.  These characters form regular stand by lines and are willing to chat and sign autographs. The line for The Witch will be EXTREMELY popular.  Others that will offer fixed meets will be Jafar and the Queen of Hearts.  Line up early or expect a long line.  Gaston and the Tremaine Family may also be met during the day.
NOTE:  The villains are no longer offering a "Mingle" portion of the Mix & Mingle.  They will appear on stage for a brief show and disappear right after.
Captain Jack Sparrow:
Captain Jack is very popular, but he also tend to be fashionably late. I stood in line one night hoping he'd arrive at 7:00 pm sharp only to find out later that he wouldn't arrive until 8:00 pm. I recommend going to see him immediately after the SECOND Boo To You Parade. They disband his line for parades, so many people don't want to wait twice.
MODERATE PRIORITY CHARACTERS
Aladdin & Abu, Jasmine & Genie
(Jafar will appear near, but in a separate line)
Aladdin typically meets with Abu and Jasmine with Genie. There were one or two sets around parade times some nights where Abu and Genie met together. The lines for these characters were typically about 20-30 minutes. You may line up for one set and actually meet the other set.  We found all four together about 11:00 pm.
Jafar is being added into the Adventureland area after spending 2013 in the Town Square area of the park.
Tarzan, Jane and Terk
Tarzan and Jane weren't meeting together in 2013. They were alternating and Terk usually met with each of them. Tarzan is by far the more inter active character. He may pick bugs off your child's head or jump around and pound his chest. Jane is very proper (almost Mary Poppins like) but very sweet too. Lines were typically 20-30 minutes and you may line up for one set and end up meeting the other.  We found all three meeting together at 11:00 pm.
Winnie the Pooh, Eeyore, Tigger and Piglet
The Pooh characters are worth seeing because they all have great Halloween costumes. They typically have a 30 minute wait and often see their line cut before they even arrive for the next set. Be sure to ask the Cast Member about the schedule.
Alice in Wonderland & Mad Hatter (Queen of Hearts will appear here with them for 2014)
In my experience, I never waited more than 10 minutes to meet Alice and Mad Hatter, but adding the Queen of Hearts to the mix could increase the lines. Sometimes each meets separately and sometimes they meet together. Alice meets in the park during the day, but the Mad Hatter doesnt.  The Mad Hatter is hilarious and will joke around quite a bit with the guests in his classic voice.
LOWEST PRIORITY CHARACTERS
Mickey Mouse
Mickey will be available to greet guests in his regular tuxedo.  He usually talks at this location. Lines are shortest during and immediately after parades and after 11:00 pm.  I would meet him during the day and even use FP+, if necessary.
Dance Parties
The Monstrous Dance Party – Tomorrowland
This dance party features Boo, Needleman, George Sanderson and Sulley
Villains Dance Party – Diamond Horseshoe Saloon
New for 2014 is a Villains Dance Party with Cruella de Vil, Dr Facilier, Frollo and the Tremaine Family
There's really no reason to arrive early for either Dance Party. Just walk right in, dance until you're tired and take some photos. You can ask a Cast Member what time a certain character will appear. We often end the night at one of the dance parties.
Donald & Daisy
Donald wears his pumpkin costume and Daisy is a Princess. Lines were typically 5-10 minutes.
Minnie Mouse
Minnie's Line was typically in the 15 minute range in 2013
VISIT DURING THE DAY CHARACTERS
It's my opinion that I don't waste my precious and expensive party time visiting characters that I could easily see during the day in the same costuming. Perhaps you only have one day at Walt Disney World or you aren't planning to be in the Magic Kingdom any mornings, in those cases it would make sense to visit these characters if they are important to you. Those who meet in the exact same costume during the day include:
Ariel
Gaston
Merida
Mickey Mouse
Tiana & Naveen (only for 4:45pm meet)
Tinker Bell
Tremaine Family
Mickey's Not So Scary Halloween Party Character List  




Subscribe to Character Locator for full schedules!

7 Dwarfs

Fantasyland – NEW Wall

Aladdin & Abu

Adventureland – Agrabah Bazaar

Alice

Fantasyland – Mad Tea Party

Ariel

Fantasyland – Grotto

Aurora

Fantasyland

Buzz Lightyear

Tomorrowland – Near his ride

Cinderella & Rapunzel

Fantasyland -Princess Fairytale Hall

Cruella De Vil

Villains Dance Party


Donald & Daisy

Storybook Circus Entrance

Dr. Facilier

Villains Dance Party

Frollo

Villains Dance Party

Gaston

In front of Gaston's Tavern

Goofy

Storybook Circus – in front of his ride

Jack Sparrow

Adventureland – near Pirates

Jack Skellington and Sally

Town Square – next to City Hall

Jafar

Adventureland

Jane Porter

Adventureland – Verandah

Jasmine & Genie

Adventureland – Agrabah Bazaar

Lotso

Tomorrowland

Mad Hatter

Fantasyland – Mad Tea Party

Madame Carlotta

Haunted Mansion

Madame Rinata

Haunted Mansion

Merida

Fairytale Garden

Maleficent

*ELIMINATED

Mickey

Town Square Theater

Mike Wazowski, Sulley, Boo, Needleman & George Sanderson

Tomorrowland Dance Party

Minnie

Storybook Circus

Queen Grimhilde (The Queen from Snow White)

*ELIMINATED

Queen of Hearts

Mad Tea Party

Snow White

Fantasyland

Tarzan

Adventureland – Verandah

Terk

Adventureland – Verandah

The Witch (Snow White movie)

Near 7 Dwarfs Mine Train

Tiana & Naveen

Liberty Square  Glade

Tinker Bell

Town Square Theater

Tremaine Family

Villains Dance Party

Winnie the Pooh, Tigger, Eeyore, Piglet

Fantasyland – next to ride
Other characters that have offered pop-up surprise meets in the past include Suzy & Perla and the Tweedles.